Style Tools Proven To Keep Your Curly Mane Poppin
Read Time:
6
minutes
I know we're not the only curly girls that scroll on Instagram and fall completely in love with beautiful curls. After we see someone else's hair for some reason we can't wait until wash day. We head over to YouTube and watch a million hair videos. Oftentimes we make the assumption the YouTuber has the same texture we do and make our shopping list to get the same products they use. Instead of selling you dreams and telling you the hair products and practices I use will definitely work for you. I have compiled a list of style tools proven to keep your curly mane poppin!
Wash Day Style Tools
Diffusers
Go big or go home! Has always been my motto in reference to curly hair. Diffusers help naturals achieve a gorgeous Diana Ross or Kelly Rowland mega fro. Diffusers can also help with the stretching of curls. I normally gently pull my sectioned hair at the ends and set the blow dryer on low heat and diffuse the roots of my hair. Once my curls are stretched I move on. The goal is not to completely dry the hair, but to dry the roots. This item is generally sold as separate attachments in most stores. You won't have to spend big bucks for an entirely new blow dyer just to get your hands on one.
Wide Tooth Comb
If there's any one tool a curly girl needs, it's a wide tooth comb! They glide through kinks without creating more tangles. Your mane seriously cannot survive without it. I always finger detangle before using one just to make sure i don't have any single stand knots. Trying to tackle your entire your head at once can be a nightmare, so I recommend parting off small chunks of hair so that each section can be manageable.
Butterfly Clamps
Speaking of sectioning your hair, a butterfly clamp will be your best friend. When it comes to detangling, applying product, or styling in sections these clips will be your BFFs. They can grip thick hair and hold sections in place tightly. You can find these clamps at any beauty supply store, amazon, etc. The butterfly clamp is really a tool all naturals should utilize, you will recognize a difference in your hair regimen.
Denman Brush
The brush I never knew I needed until I had one! This classic Denman styling brush is a staple for me and it has been in my collection since I became natural. There are a lot of detangling brushes and I have others, but when my hair is at its worst I grab my Denman. It combs through my kinks effortlessly and helps distribute my favorite products throughout every strand. Don't deprive your curly fro of this brush trust me you need it in your collection.
Microfiber Towel
You don't want a traditional towel destroying all of the work you put into perfecting your curls by drying out your hair as soon an you spent all the time getting the moisture in do you? Get a microfiber towel/cap because standard towels can create frizz, clump your curls, and absorb moisture from your strands.
Plastic Caps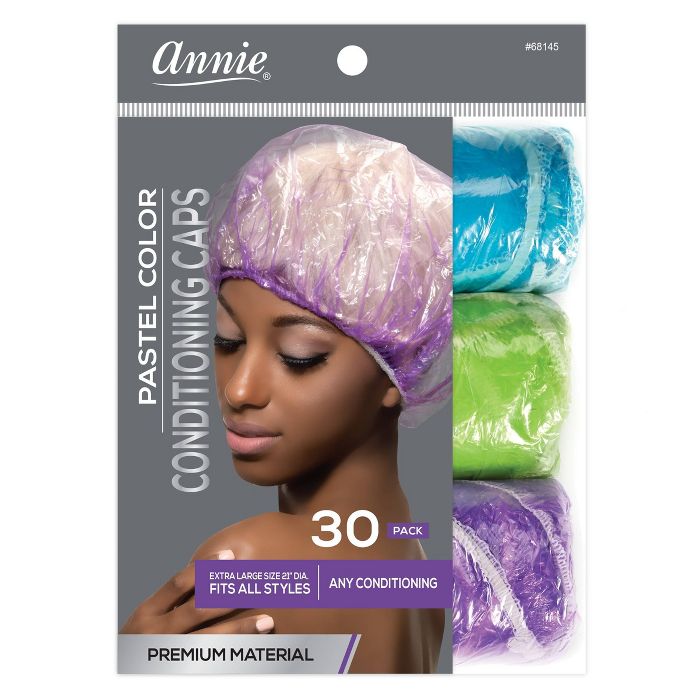 Throw on a plastic cap during a deep conditioning treatment, hot oil treatment, or hair mask and you won't be sorry. Your natural body heat helps conditioning ingredients absorb into the hair follicle, better moisturizing your mane while "baking" underneath the cap. I have began using it for my hair treatments and after I apply my leave in conditioner and i defiantly see a difference in my hair after each application. Plastic caps are must-haves.
Overhead Steamer
If you really want the moisture and treatments to penetrate your hair, get an overhead steamer. You can always sit under a hooded dryer with a wet towel wrapped around your head and a shower cap. Also you can sit in the bathroom and let your shower run, which is not cost efficient. I can't tell you how many times steaming has saved my curls. Hair steamers also come in portable versions to refresh your curls. I don't have a portable steamer, but I can attest to getting in the shower on the 4th day and my curls look better than the 1st day. I think a portable steamer and overhead steamer would definitely come in handy in the long run.
PLEASE BE CAREFUL DEALING WITH STEAMERS!
Daily Style Tools
Silk Pillowcase/Bonnet/Cap/Scarf
Don't skimp on protecting your natural hair, even if you already go to sleep with a silk scarf, cap, or bonnet. Add another layer of gentle protection between your hair and your sheets with a silk pillowcase. With many colors to choose from—champagne, pink, and silver—your smooth pillowcase can prevent frizzy hair and wrinkles so if having less frizzy hair isn't enough think about how smooth your skin will be. Wearing a satin bonnet or sleeping on a satin pillowcase will ensure your natural hair is protected every night. When you sleep on cotton, you risk losing moisture and your hair will be prone to breakage and split-ends. Personally, I wear a satin cap/bonnets every night, and sleep on a satin pillowcase which thankfully provides skin benefits!
Ouchless Hair Ties
These ouchless hair elastics have been a lifesaver when it comes to wearing a high puff, or top knot. I used to have the regular hair ties, however, they were always too tight or would rip out my hair! I knew I had to try something different immediately work perfectly for my high buns.
Whenever I wear this, I dont feel like I have anything in my hair, which is a good thing, because there is nothing worse than a puff headache. When you're ready to remove them, I recommend taking your time so it won't get caught in your hair and lead to breakage. The best part is metal free elastics come in a variety of sizes, so the size of the fro doesn't matter!
Spray Mister
If there's one thing I consistently when I am styling my hair, it's my spray mister. As you get better acquainted with your mane, you will discover they are best enhanced by a blend of ingredients rather than a single product. In my bottle I keep my favorite leave in conditioner, oils, and water.
Bobby Pins
Bobby pins can be used to hold flyaway hair in place and accessorize a natural hair style if you want to add more spice to it! Clip gold bobby pins on the side of your hair as an accessory in your sleek ponytail style.
Edge Tamer
Last, but not least, you know we have to keep our edges laid! An edge tamer is essential to a natural haired beauty's existence. Some naturals even opt for using spare toothbrushes to slick their baby hairs I know I have done it before. No matter the method, a small groomer and the perfect edge control gel will have you slaying sleek styles.
These style tools we have listed are proven to help keep your curls manageable, and make having natural hair less stressful. I don't know how many women have given up on their beautiful hair after only a short time, due to stress from trying to manage it. These tools are going to compliment your hair regimen especially when it comes to locking in moisture and stopping hair breakage. Try these style tools with products listed in our Keep Your Curls Poppin With These 5 Hair Brands article.
Which 3 Style Tools Are Your Absolute Fave?
Like|Share|Comment|Subscribe