Epic Intimate Fashion Photos We Love
Read Time:
8
minutes
Throughout history we have seen black women with historic Grammy wins, Oscar nominations, and breaking records in ways we thought we would never see. Today we wanted to look through intimate fashion moments that are unforgettable. We've combed through pregnancies and weddings to find you some of the most intimate fashion moments.
Old Hollywood Weddings
Joesphine Baker was always known for her grand over the top fashion, but when she married fourth husband Joe Bouillon in 1947, fashion was changing and we were heading to the 50s. She opted for a dress silhouette that was popular in the 1940s featuring a tailored dress paired with a short bolero jacket which was often referred to as formal wear during that time.
Dorothy Dandridge was married twice and both times she looked stunning and glamourous. Her first marriage in 1942 she wore a long evening gown, the boxy look was still in at the time with a corseted waist and long flowy skirt. We are especially a fan of her 50s tea length dress, during her wedding in 1959. This style can be modernized and pulled off today.
In 1956 Diahann Carroll married for the first time and she wore a tea length dress that was very popular at the time and she pulled it off stunningly. At her fourth wedding Carroll opted for a skirt suit, which we saw a lot of while digging through the archives of 1958. She donned a peplum jacket, which began coming in style around the early 50s paired with her knee length skirt.
Weddings In The 90s
On July 18, 1992 Whitney Houston looked like a Queen during her wedding to R&B singer Bobby Brown. The grand wedding took place in front of 800 guests, and of course, Whitney Houston wore a bespoke attire. Her look was created by Marc Bouwer, including a floor length silk veil, a pair of satin sleeves, matching bead and sequin cloche hat. The 4 piece ensemble cost a reported $40,000.
Jada Pinkett-Smith married actor Will Smith during the couples coordination decade. The couple wed December 31, 1997 in a super-secret ceremony in Jada's Baltimore hometown. The actress wore a champagne, long sleeved, turtle neck, velvet Badgley Mischka gown to her nuptials in 1997.
Intimate 2010 Weddings And Beyond
La La Anthony in a Vera Wang gown during her Summer wedding in 2010. These gowns were very popular during that time especially the sash around her waist.
Monica Brown stunned in this wedding gown in 2011 to NBA star Shannon Brown. She wore a custom gown by French designer Stephane Rolland to her star studded A-List wedding. The singer's stunning gown was fitted and mermaid shaped, featuring a 15-foot train. Monica paired her gown with $1 million dollars in Joel Rosenberg jewels.
Tina Turner opted for something more her style for her 2nd wedding to Erin Bach. She spotted the gown during a Giorgio Armani show and said she had to have it for her wedding gown. The green and black hi-lo gown was embellished with Swarovski crystals at the top and paired with Swarovski crystal leggings.
Ciara was a true fairytale princess in her lavish 2016 wedding to Russell Wilson. The secret red-carpet affair took place at Peckforton Castle in Cheshire, England. Ciara's close friend, designer Peter Dundas designed her custom couture Roberto Cavalli bohemian lace gown with lace bell sleeves. Her cathedral veil was reminiscent of her mother's and Dundas added a sweet touch with the embroidered R.C.W. initials.
Kelly Rowland was all smiles during her May wedding in 2014. She wore a simple white gown with a draped back with a white veil. She had a small intimate wedding in Costa Rica.
Solange, always the trendsetter was spotted in New Orleans after her wedding in a stunning jumpsuit. After ditching the gown Solange emerged in a punging Stephane Rolland jumpsuit. The jumpsuit she chose, gave us a bit of her personal style rather than the textbook wedding look. Solange made wedding jumpsuits trendy for the next 2 years after this look dropped.
An Iconic Vow Renewal
Beyonce and Jay Z renewed their vows and Beyonce went for something that was more her Old Hollywood style this time around. The Galia Lahav 'Thelma' gown features blush Chantilly lace, illusion tulle sleeves, Swarovski crystals and pearls decorating the bodice. The gown also came with a $12,000 price tag and was paired with an endless veil. This gown was a completely different gown than the gown she wore the first go round designed by her mother Tina Knowles. Tina stated in an interview she felt Beyonce was less than thrilled about the gown because she didn't have much input, but her daughter is a sweetheart and she went along with it. This time around Beyonce chose a gown, more her style and something she truly loved for her big day.
Pregnancy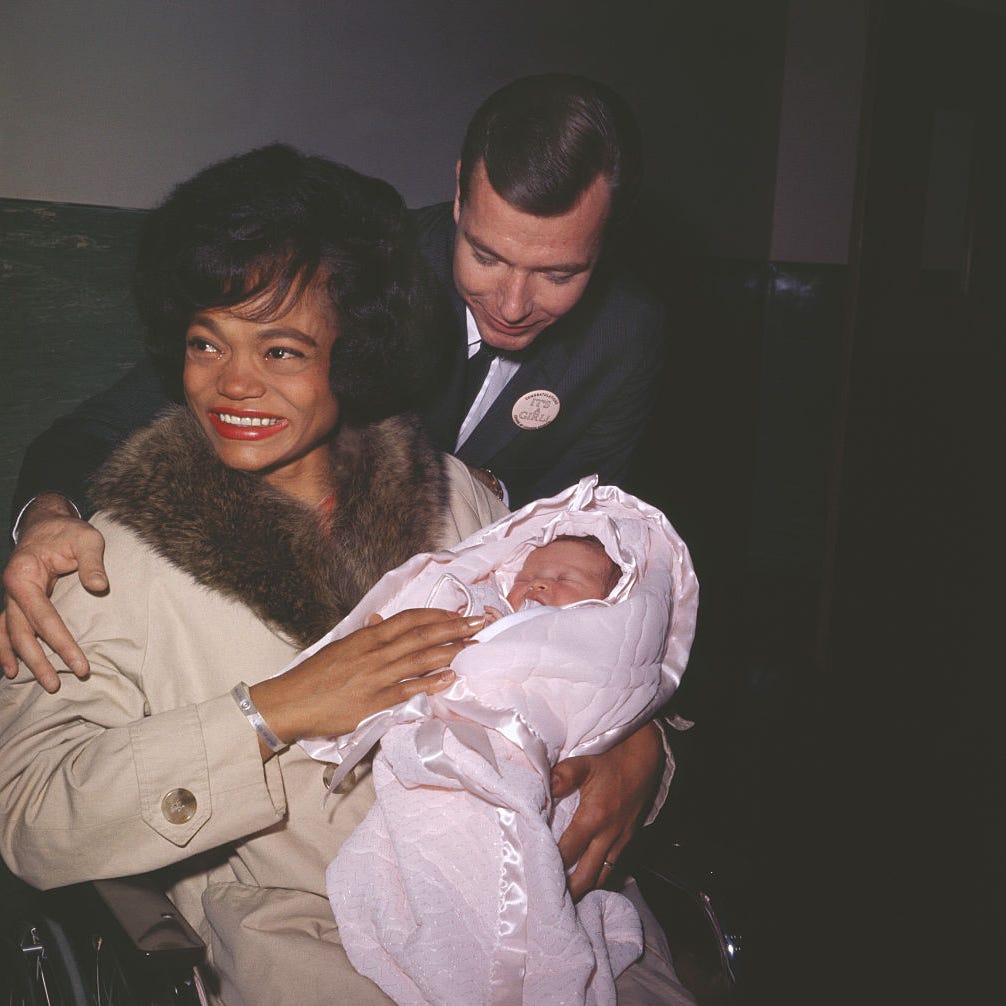 Eartha Kitt gleamed with joy in the winter of 1961 leaving Cedars Of Lebanon Hospital in Hollywood with her husband William McDonald and their 7lb 9oz newborn baby girl Kitt. She remained absolutely glamorous in her fur lined trench coat.
Lil Kim posed for photographers at her royal themed baby shower back in 2014. She decided to follow the regal theme she set and wore a modest cap sleeve taupe colored gown with white lace. She paired the gown with $500,000 in jewelry.
Initimate Pregnancy Fashion Announcement Era
No matter what Beyoncé does it is absolutely newsworthy and every person is going to tune in to see what the Queen is cooking up. During Beyoncé's first pregnancy she announced her good news on the VMAs and the world went into a frenzy. While pregnant with her first daughter she announced her pregnancy at the end of her performance wearing a sparkly purple Dolce & Gabbana jacket.
Being the reigning queen of iconic intimate fashion moments. Beyonce announced the birth of her twins via Instagram wearing a menswear Palomo Spain floral jacket. The jacket is made of vintage silk organza, found in Cordoba, Spain circa 1950/1960.
Ciara has 3 pregnancies under her belt and each and every time, she was pregnancy goals. Her body looks amazing and she glows like nobody's business when she has a bun in her oven. During her first pregnancy with Future, Ciara seemed to confirm what everyone speculated at the Grammy's on the red carpet in gold Emilio Pucci.
During Ciara's second pregnancy the star, posed in Harper's Bazaar, Ciara went for a way to showcase her pregnancy in its most natural state. She wore a wet tank top and she also posed nude in a clear raincoat. During the entire photoshoot with her husband Russell Wilson and son Future, Ciara's bare belly was on full display.
During Ciara's 3rd pregnancy she took to Instagram to announce she and her hubby were expecting baby 3, while in Turks and Caicos. She also attended the Vanity Fair Oscars party in a see-through Peter Dundas gown sparking controversy over if it was appropriate for her to wear. In my personal opinion, she looked stunning!
Iconic Pregnancy Announcements Continued…
Kelly Rowland is another star that makes pregnancy look fit and fun. She looks stunning and her beautiful skin shines, making us wonder what exactly does she put on her skin to give it that glow. In this photo she announced her pregnancy in a stunning magazine shoot, dressed in a business suit in this stunning black and white photo.
Kelly Rowland announced her second pregnancy on the cover of Women's Health Magazine. She stunned in this A.L.C. dress with Roxanne Assoulin earrings.
Janet Jackson is always the star of stars no matter what. Everything about her is iconic and intimate when she announced her pregnancy at 49 wearing neutral knits we all lost our minds,
Nicki Minaj is always trending for something and her pregnancy announcement was no different. This photo was one she kept under wraps for a while before dropping it. She always keeps a hidden gem! She was a complete goddess in this David LaChapelle photoshoot wearing an Area crystal overlay, crystal detailed flower accessories, a Naeem Khan starburst crown, and Georges Hobeika Couture veil.
When Rihanna announced her first pregnancy with her son we covered the head to toe details here. Rihanna hit the Super Bowl halftime show announcing her second pregnancy wearing a crimson red Loewe ensemble. The outfit featured many layers, including a silk jersey catsuit, a sculpted leather corset, and an unzipped cotton flight suit. She matched her red outfit with scarlet MM6 Maison Margiela X Salomon sneakers.
Other Intimate Fashion Moments
Michelle Obama had one of the most iconic intimate fashion moments in history as she dropped everyone's jaws when she appeared at her husband's first Presidential Inauguration on January 20, 2009. The former First Lady wore a one-shoulder, silk chiffon, Jason Wu gown embellished with organza flowers and Swarovski crystals.
I feel like each of these women delivered on their looks depending on their theme, time period, and individual style. These intimate fashion moments have stood the test of time, and can be easily modernized for any time period.
Snobbies Which Intimate Fashion Moment Was Your Favorite?
Comment|Like|Share|Subscribe